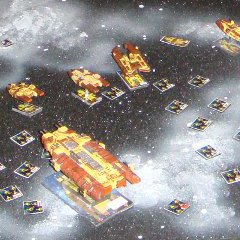 For 30,000 years the Heragul Empire stood against wars, insurrections, and rebellions. Every enemy they had encountered had been crushed. None could stand against their might. Several weeks ago however, everything changed.
A new alien raced called the Surakari launched numerous attacks on the Heragul Empire. Within two weeks, six star systems had fallen to the invaders. The initial attack wave turned their attention on the Minex system. Over the course of a month, Heragul and Surakari forces engaged in battles of all sizes throughout this critical system. Hundreds of warships were destroyed. Inch by Inch the Heragul fell back until the battle of Minex Four. Surakari forces smashed their way through the defenders to destroy the water mining facilities on the surface of the icy planet. Heragul forces gave pursuit into the thin atmosphere of Minex Four and broke the back of the attackers.
The invasion should have ended. The Heragul believed the Surakari to be defeated at Minex Four. While Minex was saved, the aliens continued to attack other systems. Twenty more star systems experienced the horror of war.
Just beyond the edge of the Heragul Empire, yet another alien race has made their presence known. Calling themselves the Colayth Guard, these aliens have expressed an interest in meeting one of the alien races enslaved by the Heragul. One armed conflict has already broken out and Heragul diplomats are struggling to make sure it does not happen again.
This is a galaxy at war. This is Kalidasia.
"
Our lives are a constant conflict between our desire for control and the reality that we have none.

" ~

Reflections on the Teachings of Colayth - Book One